Wallpaper, wallcoverings and murals—oh my! Marshall Erb offers up his advice on incorporating patterns, prints and textures for the right impact.
By Elise Hofer Shaw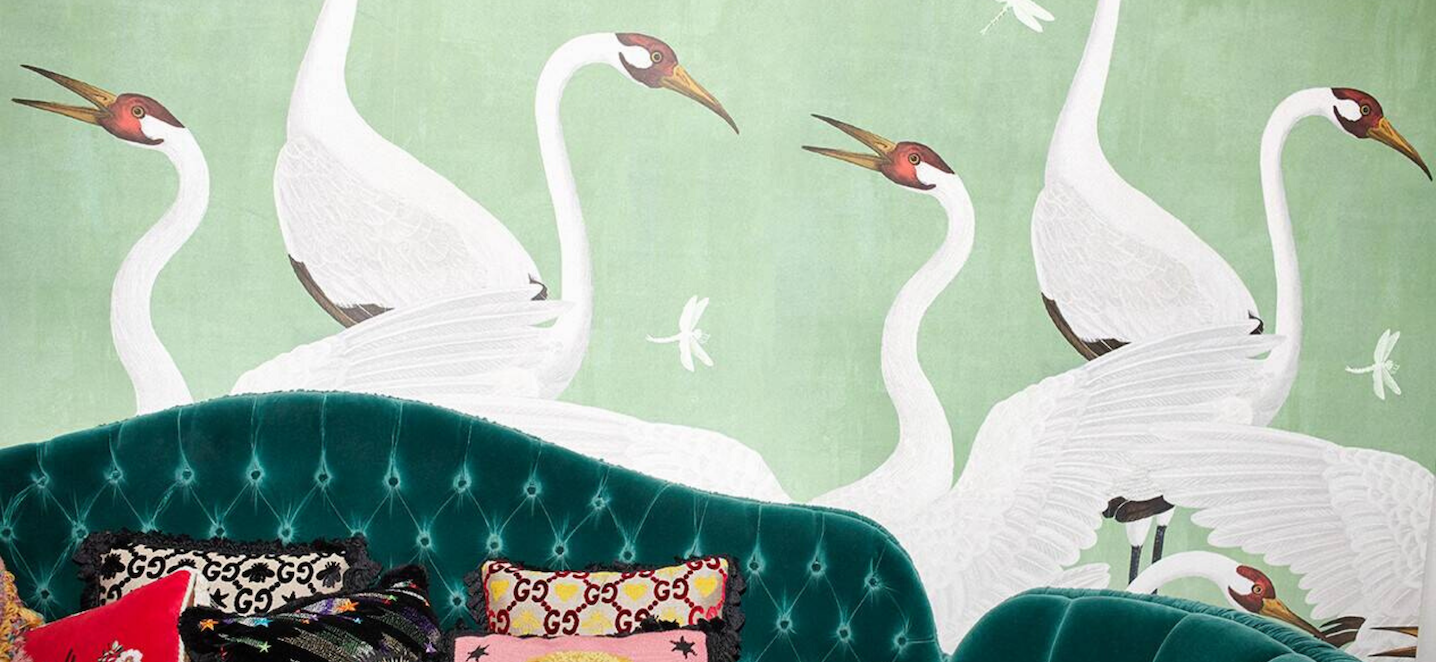 When it comes to good design, it's never just one thing that determines the final impact. Naturally, furniture and decor are all part of the equation; fixtures and statement lighting, too. But before the rugs go down and the shelves get styled with curated books and treasures, decisions about what to do with those wide-open walls must be made.
Sure, you can play it safe and opt for white walls, selectively peppering in art here and there. Or, you can boldly go the wallcoverings route. First things first: Let's consider the options. "Wallpaper, as the name suggests, is made from paper," says Marshall Erb, principal and lead designer at Marshall Erb Design in Chicago. "The medium is straightforward. The decision with wallpaper is really about the pattern and colorway. Wallcoverings, on the other hand, encompasses a whole range of mediums. Paper, yes—but also mixed media, vinyl, woven fibers and cloth."
According to Erb, it's these material nuances that are a huge defining factor when it comes to drama, personality and tone—and why all wallcoverings aren't created equal. "If you are just beginning to dip your toe into the world of luxe wallcoverings, Phillip Jeffries is a good place to start," suggests Erb. "Especially if you are on the hunt for earthborn tones and subtle weaves." A world leader when it comes to natural, textured and specialty wallcoverings, Jeffries has taken the art of paper weaving—an art form that began centuries ago in Japan—and made it readily available with more than 1,700 designs that can be shopped and shipped at any given time.
Erb has been known to source from smaller vendors, too, like The Vale London, when he's looking for wallcoverings that are small batch and hand-touched. "Melinda Marquardt at The Vale paints all of her patterns by hand before they are printed," shares Erb, who is quick to point out that, in addition to artists, a lot of fashion designers are getting in on the wallpaper game as well. "Womenswear designer Matthew Williamson has a wallpaper line for Osborne & Little that I really like. In fact, looking through your closet at the prints and textiles that you are drawn to can inform what you might like on your walls. Hermès, Armani, Ralph Lauren, Gucci, Etro… They all have wallpaper lines these days—and a strong foothold in the marketplace."
When it comes time to decide which wallcovering is best for your abode, Erb suggests taking into account two main factors: budget and balance. "Any way you slice it, detailed wallcoverings are more expensive than straight-up wallpaper, so you have to make sure that your budget can cover the expense if you're eyeing a grasscloth jute or raised ink screen printing," says Erb. "From there, it's all about composition and balance, and how different spaces within your home are being used." For more utilitarian spaces like bathrooms and mudrooms and high traffic areas like hallways and kitchens, Erb suggests washable wallpaper or vinyl wallcovering because they are durable and easy to clean.
As for balance, Erb advises moderation—and picking your spots. "Areas like formal foyers and living rooms are great candidates for fancy wallcoverings because these are the places where first impressions and elevated entertaining are important."
And while prints and bold patterns can be fun, Erb is quick to rein in his clients when too many are on the table. "Look, I'm all for a geometric Art Deco motif or a cherry tree mural if it works, but you have to choose these moments carefully. A jewel box powder room, for example, is a great place to go big with a flashy print or to get saturated and moody with your hues. Farrow & Ball is an excellent resource for lighthearted prints that endure. And I always have my eye on what's coming out at Pierre Frey. Frey has a panoramic wallpaper scape of the Yunnan mountains by French visual artist Hélène Mongin right now that would work well for a home out West."
For spaces like bedrooms and offices, where the desired effect is a sense of calm or focus, Erb tends to lean into the neutrals. "I don't know about you, but I'm definitely not interested in a wall party when I'm trying to sleep," laughs Erb. "Instead, consider a cozy flannel wallcovering in the slate for the primary suite. And Chicago's own Maya Romanoff has a gorgeous knotted hemp wallcovering in wheat that's perfect for offices and dens. Earth tones are always soothing."