After a gut reno and full-scope interior design, Marshall Erb, Lead Designer at Marshall Erb Design in Chicago, reveals his new home in the Gold Coast—and leaves us breathless with all that glamour.
By Elise Hofer Shaw
Much to the delight of designophiles near and far, award-winning interior designer Marshall Erb, the founder and lead designer behind Marshall Erb Design, is unveiling his recently completed Chicago home for an exclusive first look. For more than 20 years, Marshall Erb Design has been an integral part of the design movement shaping Chicago and its surrounding suburbs. From single-family homes and condos to galleries, commercial spaces, five-star hotels and vacation homes abroad, his West Town-based firm provides luxurious-yet-approachable interior design services that include collaborating with builders and architects, full in-house interior architecture, and, of course, all of the interior polish required for its clients to feel at home. And now, the ASID Award-winning designer and 'Top 20 Best Interior Designers in Chicago' recipient has wrapped his personal home in the Gold Coast—and realized a dwelling a long time in the making.
After nine years of living solo in a modest pied-à-terre, Erb and his longtime, long-distance partner, Richard Strong, decided to move in together—and find a shared home in Chicago that would suit their refined sensibilities. Ultimately, the pair picked a boutique Art Deco building downtown within walking distance of the Mag Mile and Lake Michigan, a residential charmer on State Parkway that was originally designed by Sylvan Bien and Harry M. Prince in 1975, the architects behind Chicago's iconic Carlyle Hotel. "The vintage of the building has that old Chicago pedigree that we wanted," says Erb. "And when I toured this 2 bed/2 bath corner unit on the 15th floor, I instantly fell in love with its wraparound windows, the panoramic views provided by the breadth between the neighboring buildings, and the elegant curvature of its walls."
Undulating walls can make some designers run for the hills, but Erb saw smooth transitions and the makings of an architectural balance that he could put his stamp on. "Even though we had to replace everything down to electrical, I kept most of the walls intact," informs Erb. "Because this building was completed in 1975, that whole late-'70s crunch hadn't happened yet. Apartments were still being made on a grander scale with high ceilings and bigger bathrooms." Just the same, a six-month full-gut reno and interior design project would ensue to bring the 1,850-square-foot roost up to modern standards—and provide Erb with a canvas of perfect proportions. "Milanese modern was my design direction from the start," shares Erb. "I was inspired by the Piero Portaluppi-designed home [Villa Necchi Campiglio] in the movie 'I Am Love,' and the idea of distilling all of those luxurious details—rich materials like burr and mahogany woods, marble, steel and travertine; mixed with precious furnishings, avant-garde artworks and quotidian objects—into a contemporary urban footprint."
To kick things off, Erb raised the ceiling height in the foyer, adding a decidedly Deco light fixture from Arteriors, an abstract mid-century sculpture by Chicago artist Forman Onderdonk, and basket-weave parquet floors that extend throughout the entire apartment. Here, a gold-leaf Japanese byobu screen (Edo period, 1603-1868) leads to the open-concept living/dining space, where views of the lake and skyline intentionally steal the show. "Half of the walls in the great room are this continuous expanse of glass that curves around an opera box-style terrace," says Erb. "To dress the windows, I selected a series of wool-blend drapes in a light olive hue that I matched from a plant leaf. It's funny… Once you put it up, green chills out on you—and goes with everything, as in nature." The adjacent dining room finds definition from an antique burled walnut and maple table from Olde Chicago Antiques (restored by Krzysztof Kwasny of Kristopher's Furniture Services), coordinating chairs upholstered in Edelman leather, a starburst chandelier from Arteriors, and a vintage Beni Ourain rug from Morocco. The dining room accesses the aforementioned balcony where a cast concrete table and woven fiber chairs from Teak Warehouse and an outdoor rug from Surya delight for daily cappuccinos.
"I'm more traditional in the sense that I didn't want full open-concept living," says Erb, referencing the apartment's passthrough kitchen. "I resisted the temptation to open the kitchen to the living/dining room. The reality is that I actually do cook, but I don't like to see the mess. The open-ended galley kitchen allows for a buffet line to flow through and pour out into the dining room. We love to entertain. We had 35 people over for Christmas. This setup supports large-scale entertaining in a smaller space." The kitchen is also a prime example of another objective Erb had for his new home: low-maintenance living. "Instead of high-maintenance natural stone, I chose grout-free terrazzo floors from Artistic Tile for the kitchen, creating interest with brass strips as separators. And the custom cabinets are an easy-to-clean lacquered Macassar ebony by Eurocraft. In my personal life, I want to be able to hit the easy button." For the backsplash, Erb opted for reverse-painted glass from Chicago Glass & Mirror that he can wipe clean in an instant with Windex. And their Miele induction cooktop doubles as additional counter space when needed for parties. For the breakfast nook, Erb added a round antique table he sourced through Hindman (also restored by Kwasny), a vintage torch-cut brass chandelier by Tom Greene, and lacquered ebony wall panels to level up the luxe.
In the living room, where frequent gatherings commence, Erb doubled down on decadence with a Jean-Michel Frank-inspired custom settee by J Redmond Designs that's upholstered in a dusty aqua epingle velvet from Donghia, a pair of TH Robsjohn-Gibbings armchairs (c. 1950) upholstered in a white linen from Holly Hunt, vintage footstools covered in a patterned velvet from Jim Thompson, and an inherited wall of decorative panelling that he plastered with an ultra-matte white primer. "Steven Meisel photographed a campaign for Versace in 2001 called 'Four Days In LA,'" references Erb. "The images immortalize that languorous and rarefied extravagance of the '60s and early '70s that I wanted to evoke across our new home." In a few of the photos, supermodels Amber Valetta and Georgina Grenville are posed with a pair of fluffy white poodles. "I like a little haute bourgeoisie in my life," laughs Erb. "And I have the poodle to prove it." Karl, Erb and Strong's loyal miniature poodle, is known to lounge in the living room in a pool of sunlight beside a glass-topped console table that boasts white resin ibex heads as its base.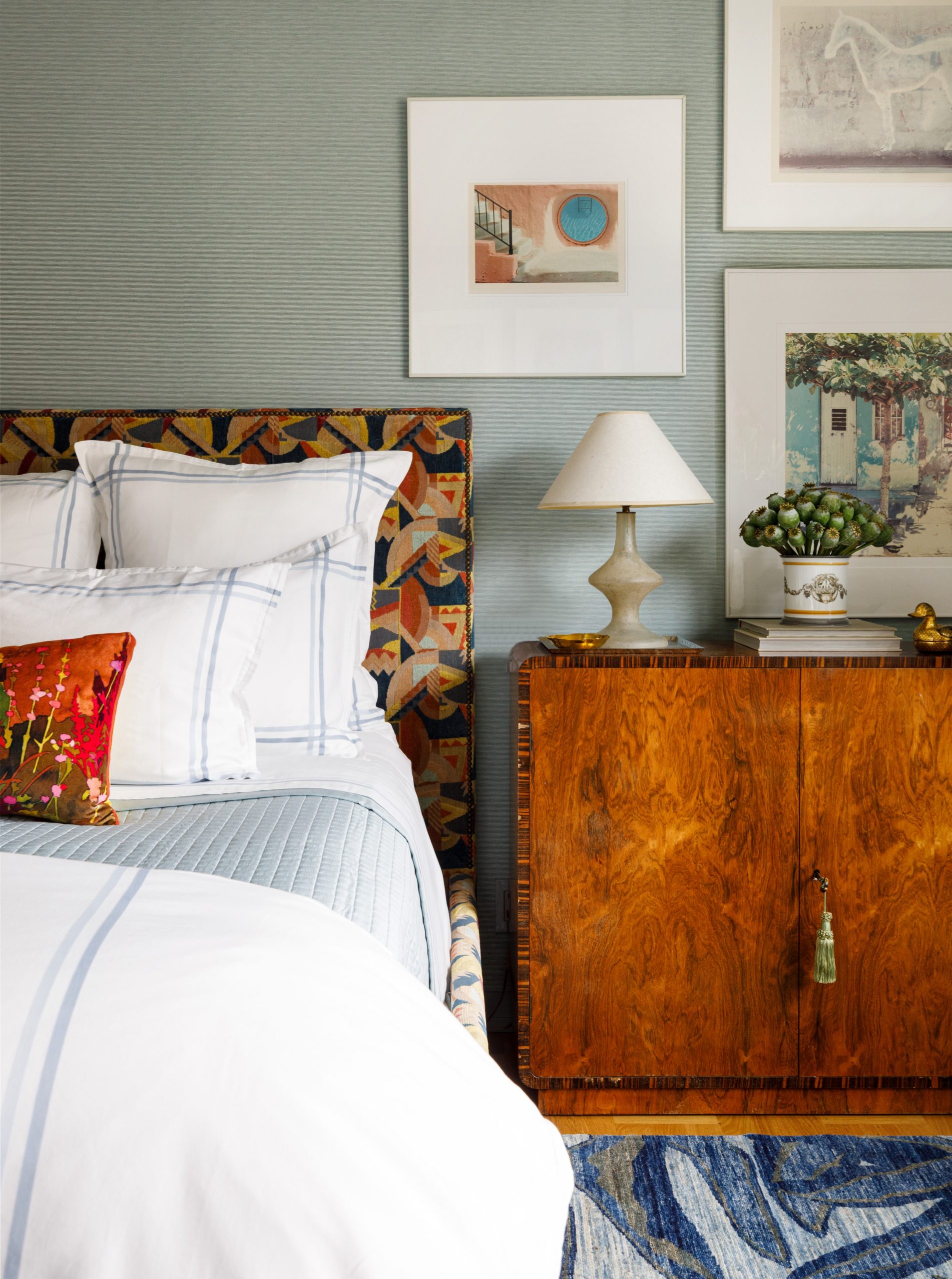 Instead of hanging his own art, Erb hired a professional installer for the job, a move he deploys for all of his interior design projects. "In addition to nailing composition and balance for gallery walls, a professional art installer can level up a room's 2D with standalone pedestals and picture lights for more of a presence." Art plays a starring role in the primary bedroom, where a large painting of a diver by ARTIST and a cluster of photography by Ray Hartl amplify a melange of mid-century colors and textures: a custom bed upholstered in an abstract-patterned fabric from Clarence House Fabric, a corrugated black cabinet from Studio A, wallpaper by Jim Thompson, and a denim-hued rug from Arzu. "I pulled in the ebony from the kitchen into the primary bedroom with a bedside table, and repeated that muted aqua hue from the living room sofa on the back bedroom wall," shares Erb. "I'm finding less of a need to have every little thing be different. Some consistency can be a unifying thread." Repeat materials appear in the primary ensuite as well, where brass Brizo faucets offset Ella counter slabs from Cambria, porcelain large-format wall tiles from Artistic Tile, and more lacquered ebony for the cabinet fronts. "You can spy similarities in the kitchen and bathrooms, too. All of the elements feel distinctive, but also easy and homogenous."
After walking the total footprint, it's clear that Erb is a master at executing big ideas with style and grace. "It sounds like a lot for 1,850 square feet, but I promise you—it's not when you boil it down," says Erb. "We joke that this apartment is a condensed soup of our favorite things. When Richard and I moved in together, it was a merger of our lives and our decor. We spent a lot of time editing our two houses—er, and a warehouse, and items from my office—down to the best of the best. And then I upgraded some beloved antiques with fresh upholstery. I really pushed myself outside of my comfort zone with this place when it comes to color, too. And it's funny because I'm learning that I can just keep going!"